OPEN HANDS INDIACatholic christians, hindus and muslims work together in these mainly hindu and muslim villages
Welcome to the OPEN HANDS INDIA web-site
Open Hands funds local organizations in India that are working, with women and girls in particular, to relieve poverty in rural communities.
At present Open Hands is giving support to three projects based in two districts of Karnataka. To learn more about these areas and some of the issues facing people living there, click, 'Projects' and 'In the field', on the menu.
OPEN HANDS INDIA is the working name for Other People's Educational Needs, Health And Necessary Development Schemes Trust (Registered No. 1116011). We are a small group of people who believe in helping to make a difference. We believe in giving because we are able to give. We know that we can't change the whole world but by targeting our giving carefully, our actions do make a difference to the lives of individuals, their families and their communities. Please join us, the value of any donation you make will be transferred in total to the projects we are supporting, as our small administration costs are being covered by the trustees. Open Hands raises money from local events in Somerset and Devon and through direct donations. Information about events and how to donate on-line or by other means is given on this website.
It is easy to make a donation quickly and securely on-line via Charity Choice. For more information click on the menu to your left.
Clicking on pictures enlarges them.th Petherton,Fund raising through music and dance events, on-line pyment of donations possible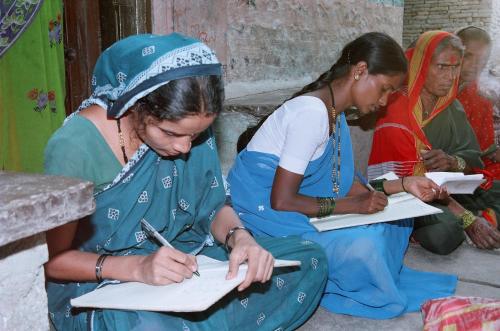 Keeping the account books at a women's self help savings group OHI is a UK registered charity